Warsaw Community Schools E-Learning
Warsaw Community Schools has the option to implement eLearning Days in situations where traditional in-person learning cannot take place within the school buildings. This may be due to inclement weather situations, precautionary measure to prevent the spread of widespread illness, or to provide professional learning opportunities to school staff.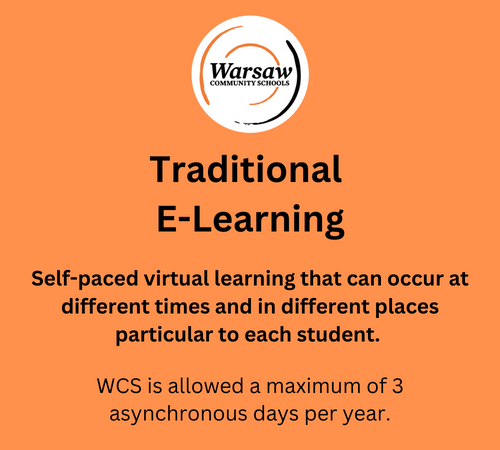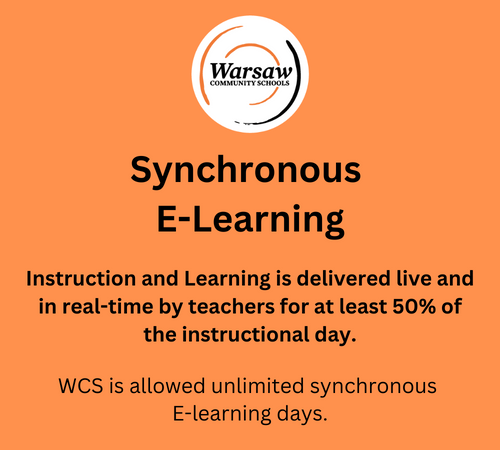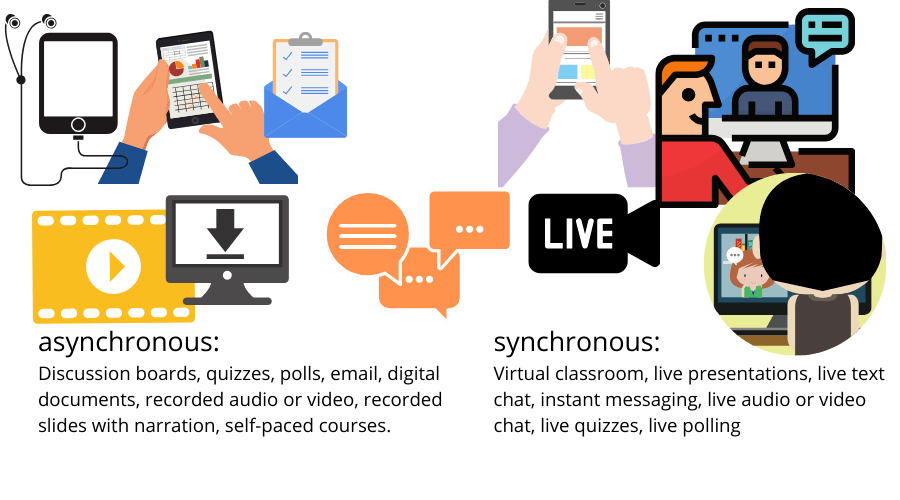 E-Learning assignments can be accessed from each school website. For your convenience, you can access each school's E-Learning web page below.
If school is canceled, eLearning assignments will be posted on the day of the cancellation. Please refer to the frequently asked questions (FAQ) below for more details about eLearning Days.
Q - When will lessons be posted on a same-day eLearning Day?
A - If the cancellation was called by 6:00 am or the previous night, the lessons should be posted by 9:00 am. If WCS started with a two-hour delay that turned into a cancellation, lessons should be posted by 11:00 am.
Q - Where can students/parents find eLearning Day lessons?
A - Information regarding student eLearning can be found on the left side of this page. Select your school from the list.
Q - When is the work due for each learning day?
A - For secondary learners, eLearning assignments are due two (2) school days after the eLearning day at 11:59pm. This will be three (3) for elementary school. For example, at one of our Elementary Schools, if the eLearning Day occurs on a Friday, students will need to turn in assignments by 11:59 p.m. on the following Wednesday evening.
Q - Can iPads go home in grades K-4? How will teachers know to send them home?
A - iPads will come home all year on the day before planned eLearning Days. If weather reports indicate that approaching weather creates a possibility for a cancellation the following day, WCS will send out an email to all staff alerting them of the possibility of an eLearning Day so that they can send devices home with students.
Q - When are loaner iPads due back?
A - Loaner iPads are due back immediately following an eLearning day. They are considered textbooks on loan for the eLearning day only.
Q - How many eLearning Days can we have in a row?
A - The maximum number of eLearning Days we will have in a row is three (3). If we have three days in a row, the assignments will be due in sequence starting on the day of our return. For example, consider if we miss Wednesday, Thursday, and Friday. So long as school resumes on Monday, Wednesday's assignments will be due Monday by 11:59pm. Thursday's assignments will be due on Tuesday and Friday's assignments will be due on Wednesday.
Q - If an eLearning day occurs on a secondary block day, do students only do periods according to the block day or all seven? Do lessons need to be current with what is being taught in class? What about elementary specials? How long do eLearning assignments need to be?
A - At the secondary level, students complete assignments in classes as if it was a normal 7-period day. In elementary schools, students will only complete assignments for specials they would have attended. All lessons should reflect content that would have been covered that day in both scope and length.
Q - Will schools be open before and after school to help those students without Internet access?
A - Yes. Weather permitting, one computer lab or the media center should be staffed and open in each school before/after school for one hour on each of the three school days following an eLearning Day. Students can also visit businesses with free Internet access, the public library, and our wireless bubble extends outside all of our school buildings. Finally, WCS has some mobile Internet hotspots that can be checked out from the school media center.