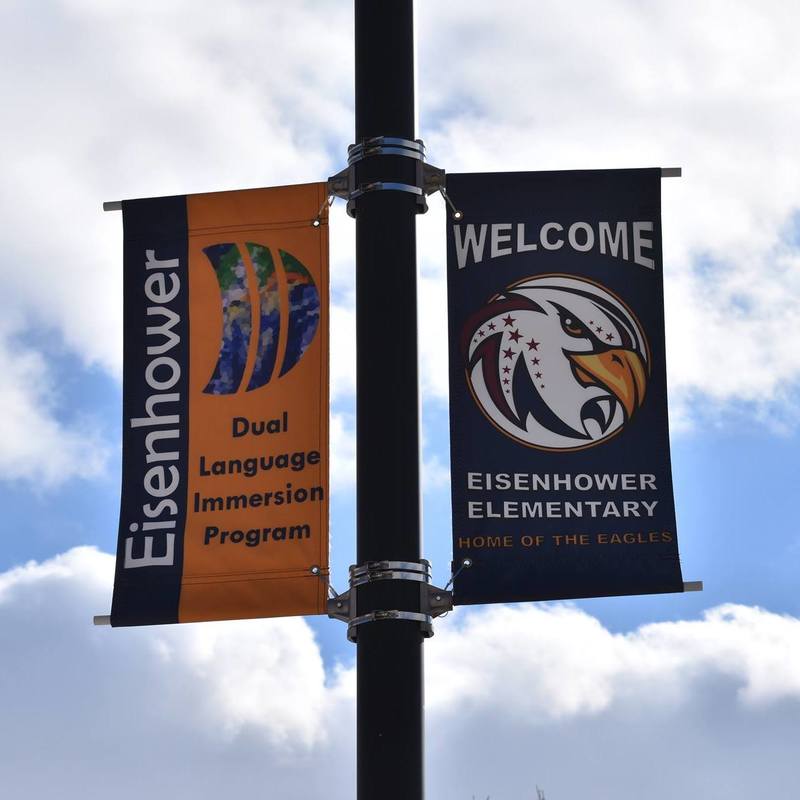 A focus on the liberal arts
Eisenhower Elementary School provides a rich and engaging learning atmosphere for all students.
Dual Language Immersion
Eisenhower recently launched a highly successful (Spanish/English) Dual Language Immersion program in the area – one that parents are thrilled to have their children attend. The students in the dual language immersion program will be bilingual and bi-literate by the time they complete the sixth grade – which is quite remarkable.
Rigorous Curriculum Delivered with Artistry
Eisenhower consistently boasts high scores on statewide assessments in reading, math and science as a product of our rigorous curriculum that is delivered with artistry from an outstanding teaching staff. Our teachers are committed to do "whatever it takes" to help our students find a platform to reach for their dreams. Teaching staff integrate the use of technology, project based learning (STEM), collaboration and problem solving to engage every child in the learning process. Our teachers use well designed leveled learning activities to differentiate instruction and encourage our students to think beyond the world we see.
Adventures After School
Eisenhower School has enhanced our academic opportunities by orchestrating the only "Adventures After School" program in which students can sign up to attend any of the 20 after school classes offered during the second semester of each school year. We offer taekwondo, edible art, glass fusing, ceramics, violin, bookmaking, knitting, ballet, cosmic dodge-ball, and more. Many of these classes touch on the fine arts as our school respects and supports the arts, as well. In addition, our students also have the opportunity to join various clubs such as chess, choir, ballet, robotics, and student council. Eisenhower Elementary is proud to be the only elementary to offer violin to the students. It is our pleasure to give our students the best possible educational experience every day.